And a belated Happy New Year to you, too!
First up, I was fortunate to make a trip to Grand Cayman this year. In addition to making a couple of Q's on 20 Meters, I had a blast with friends Jim (ZF2JS) and Newt (ZF2KO) by doing something a little different than our normal operating activities during our "vacationpedition:" we tried handing out Grand Cayman contacts for those intrepid operators who often don't seem to receive a lot of press: the satellite operators. We had to hack about an inch and a half off the handle end of the Arrow Antenna in order to pack it down there and back again. The only other piece of equipment we used was my Icom W32A HT which I picked up from John, N8UR. It works great, John!
Limiting ourselves to the only remaining FM satellite, or "birds" as they are often called, was not necessarily a handicap. We had the equipment available to attempt activating the USB birds but elected not to do so since it made things more complicated. And when you are in the middle of the Caribbean during wintertime, believe me, you don't want complicated. You want a Cuban cigar and Scotch. That's what you want.
Jim was kind enough to take a video of the event and edited it down to the best part. Please enjoy!
Secondly, it wouldn't be January without the January VHF contest! If you have been following this blog for any length of time, you know one of my very favorite writers is Andy, K1RA, and his missives concerning VHF rovering. I don't want to spoil it for you, but take a look at this: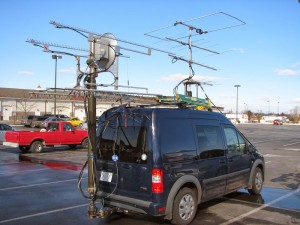 And I know what you are thinking: where can I get one of these? Well, Andy will tell you how here. As usual, he does a splendid job reporting both how something gets done and how it turns out- something that doesn't always come across well in amateur radio writing. How Andy and Terry, W8ZN, convinced Rich, N3UR, to loan them a new rover for the contest is either some form of trickery I haven't mastered or perhaps evidence of a deep and caring friendship. Way to go fellows!