What is there to say about Hamvention that has not already been said? I suppose we all have our own stories to tell about our first time in Dayton, Ohio; my first time was not for anything amateur radio related but rather for The Grand American Trapshoot that was eventually the casualty of the TSA under the guise of airport security. As of this writing, the security remains secure and the airport has yet to be taken over by trapshooters. If you notice the garage/storage like buildings and a two story building on the other end of the runway, you have now found the place which held the Grand American- vendors used those buildings, which had been purchased by them in some cases, for their business during the two week event. Without question, this was the place to shop for shotguns and shooting accessories for the clay target sports. A shame it's gone.
While I had been to the Grand (as it was called), I had never been to Hamvention before this year. It was never a priority. Field Day, which is today, is another great holy event among amateurs. It, too, is also not a priority. I'm not sure what my lack of apparent enthusiasm is indicative of in either case. I just made a contact in the mobile with a station in San Diego on 10M. After completing the contact, I shut the radio off and came inside. It was that simple- a real take it or leave it sort of thing. I actually realized I gave the wrong exchange because I classified myself incorrectly after the fact, but really, who cares?
The people who care about these things are the same people who look forward to Hamvention all year. These same people are attending for the social aspects- they get to meet and greet all their on air and real life friends. There are cliques within cliques within cliques. This is not unlike the Atlanta radio scene. It's all about the glad handing, the being seen and showing up at the right dinner at the right time and with the right people.
Imagine the meetings in the settings that James Bond would have attended. Now think about the polar opposite. The Hara Arena is slowly disintegrating and the constant complaint about the entire place, other than its general state of disrepair, is the bathrooms. I'm not sure how the bathrooms are supposed to survive longer than the building in which they are placed, but believe me- they are a terror to be avoided if possible.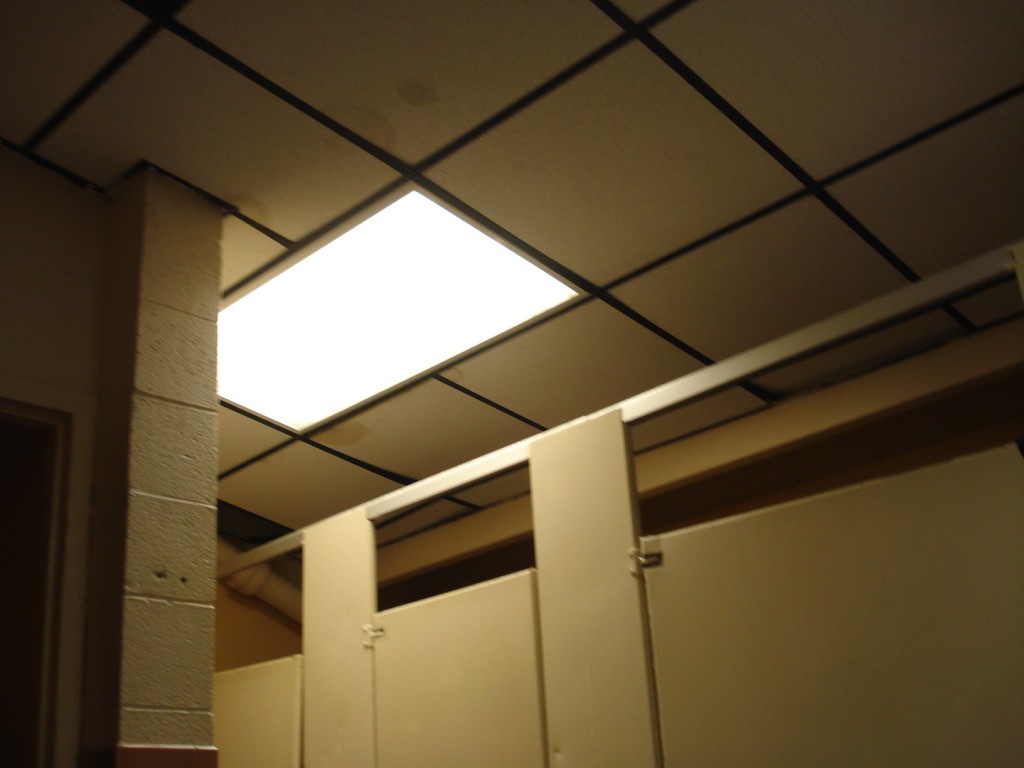 You'd be a fool if you didn't think that the majority of amateurs are politically conservative. So, it was with some interest that I tried to make note of the many different t-shirts, bumper stickers, overheard conversations, and any other sort of political indicator I could find. If there is one thing that hams are good at doing, its expressing themselves. What they express, however, is another matter entirely.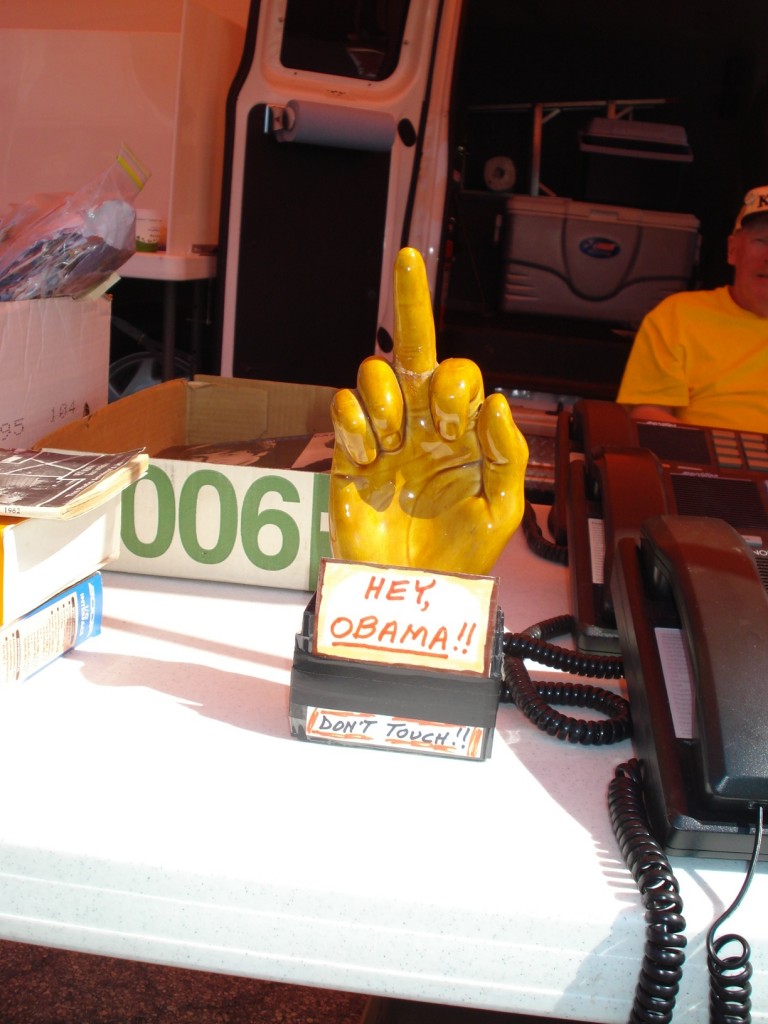 Of course, there is a vocal minority who do not feel the same way: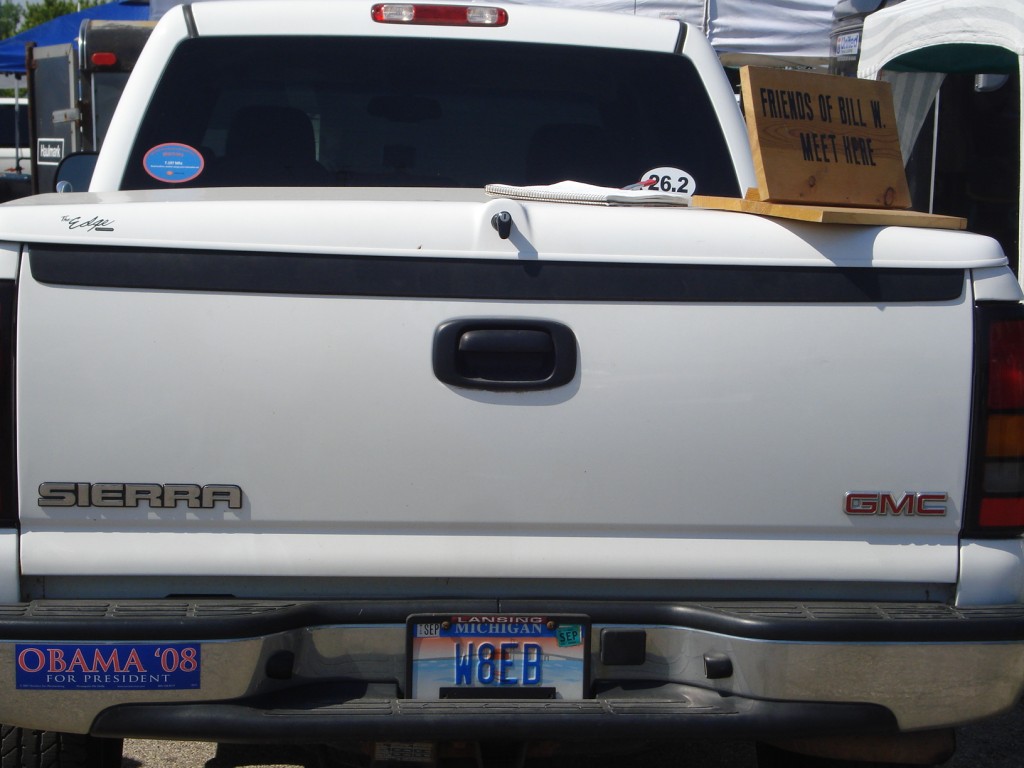 I also noted a couple of men wearing suspenders which had been embroidered with their callsign. These are the same sorts of people who enjoy wearing personalized t-shirts about an event way past its prime. The, "I survived" type of t-shirt is a real cash cow for the provider. Think about it: you purchase the t-shirts, have them silkscreened with the appropriate logo and then sell them to the public at the event- you are going to capture some amount of business because there are always going to be people who want a, "I survived Field Day" sort of t-shirt as a token of their having attended. Remember- hams certainly express themselves!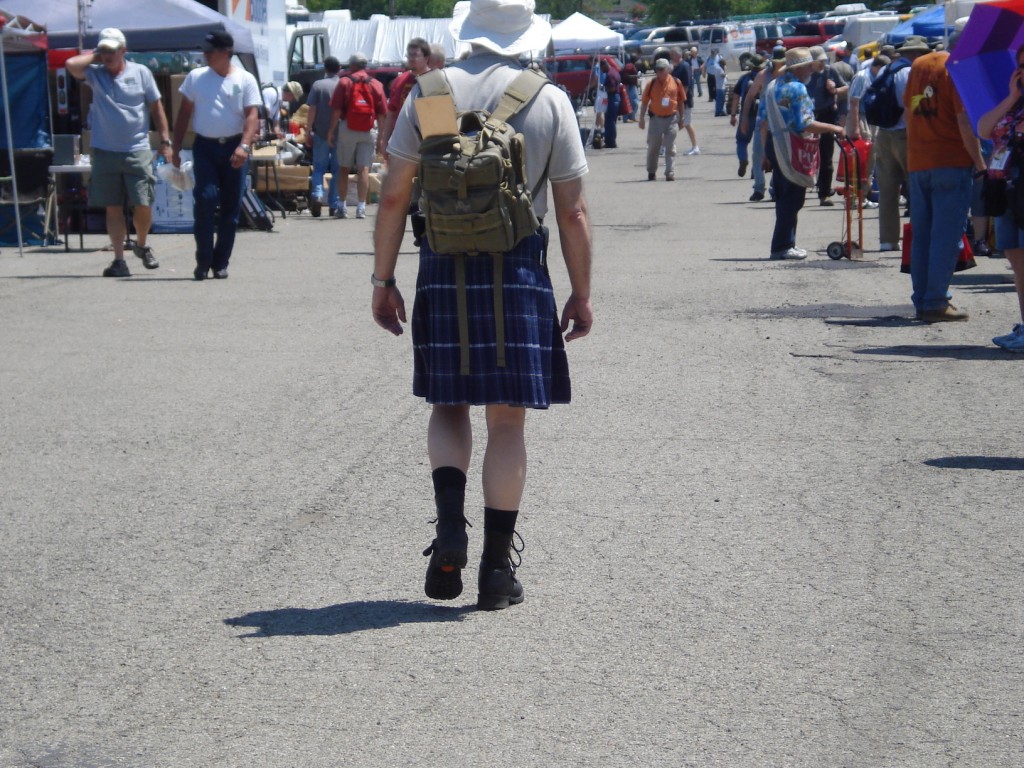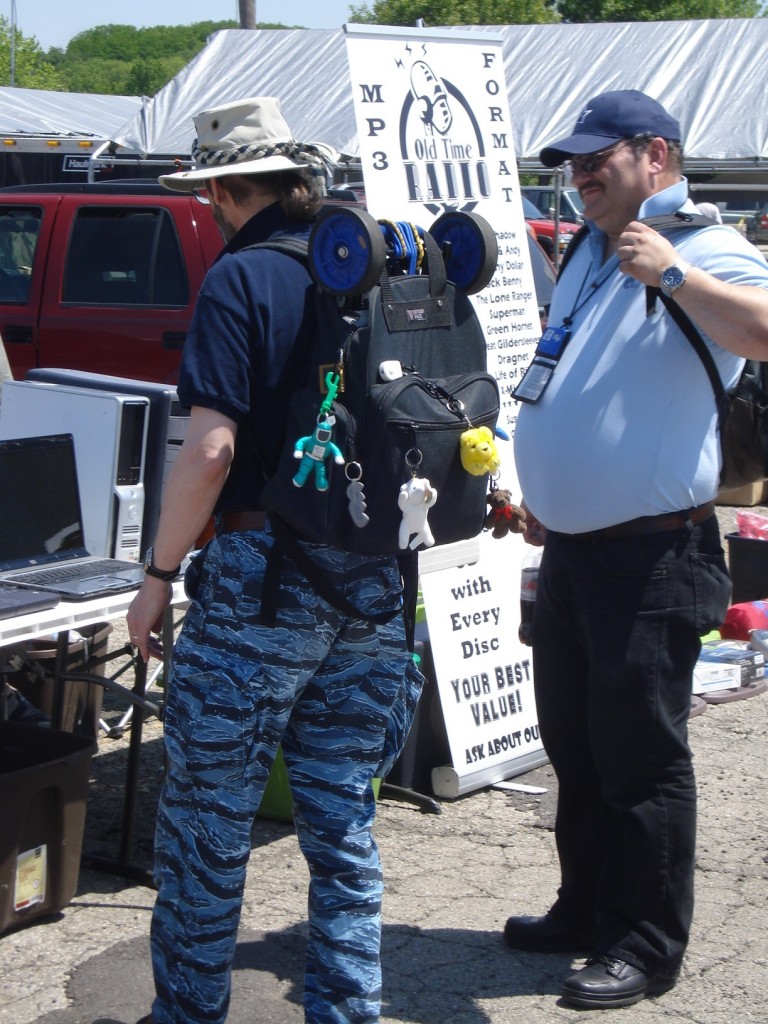 I also kept an eye out for different W4 1×2 calls. I was there, along with W4PA, W4NL, W4OI, W4QO and W4AX. Hopefully there were others there, but I did not see them.
There is also some sizable segment traveling in these circles that believes in alternative medicine. It is difficult to know how many anti-vaccination people, if any, were at Hamvention, but there had to be some present.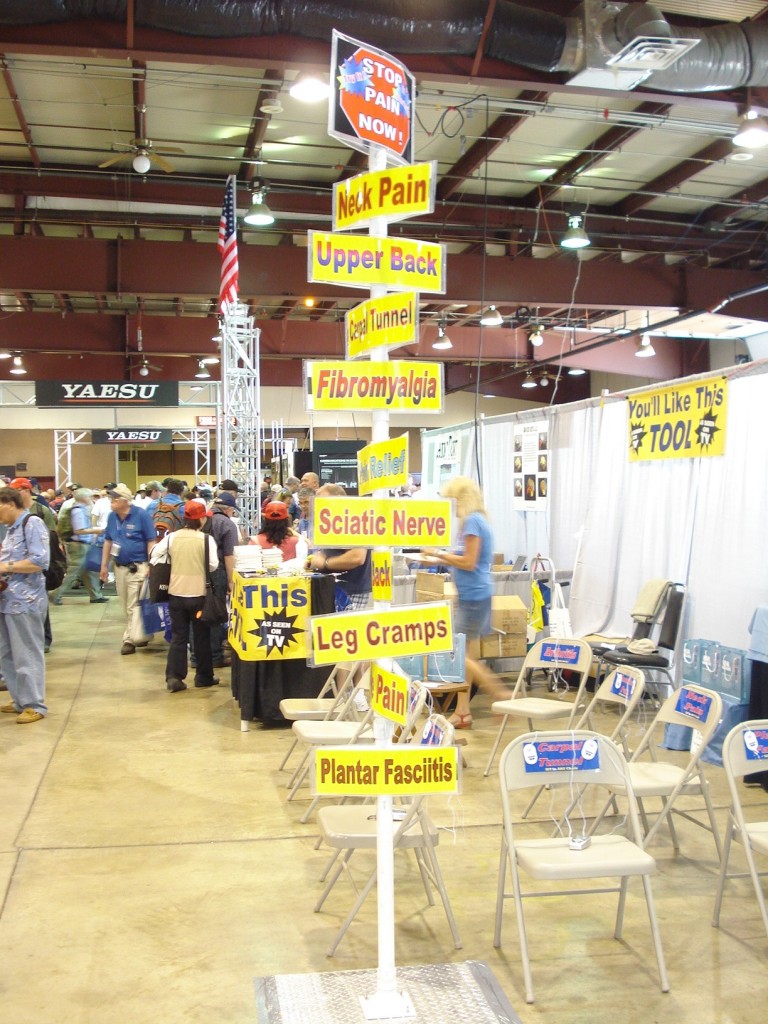 Really, whatever this was (I think it was an electrical stimulator of some sort) is the solution you have for sale that could fix all of these issues both jointly and severally? So where is everyone waiting to get this magic treatment? Not in the waiting area? Ultimately, I feel badly for these people because they are at the very bottom of the sales hierarchy. Trying to make a living selling something most people aren't buying is nothing but misery.
I'm not sure why alternative medicine is big amongst this sort of crowd- you'd think with such a science and engineering background necessary for the hobby, many hams would immediately dismiss the pseudoscience that is alternative medicine. But it isn't so.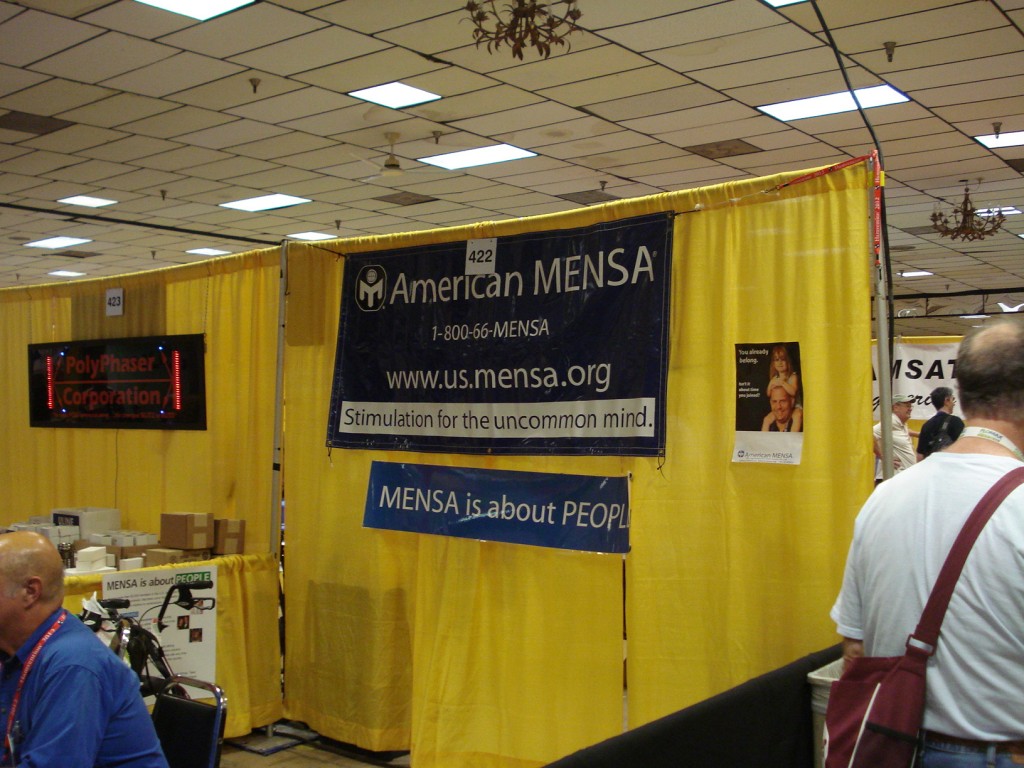 I suspect that the same people who believe in these sorts of magical cures (such as glucosamine) are very similar to the MENSA crowd. The common thread is that both groups always feel like a victim- there is a certain, "I am the only one affected and the only one able to fix such." In either case, both believe they are always right as a function of their intelligence or insight into a problem- they are smarter than the doctor or whomever and can plainly see what others can't. It is the "If people would only listen to me," sort of syndrome. I can't imagine a worse lot to throw in your chances with; I also imagine that if you put that you were a member of MENSA on your resume that it would be immediately thrown into the trash and rightfully so. Why did MENSA decide to show up here instead of Georgia Tech? The people maning the table were very polite and nice to speak with, but really, what's the point? Maybe they know their market well and are trying to scoop up more of the egocentric types that would attend this event. Even so, this effort makes as much sense as digging in a dry well.
I did find some cool items for purchase. I renewed my membership with the ARRL for 3 more years, which earned me a 2012 handbook. In the boneyard, I found a 1977 handbook, the year of my birth. I purchased it and have been intrigued at the differences between the two texts! I also noticed quite a bit of of test equipment for sale in the boneyard.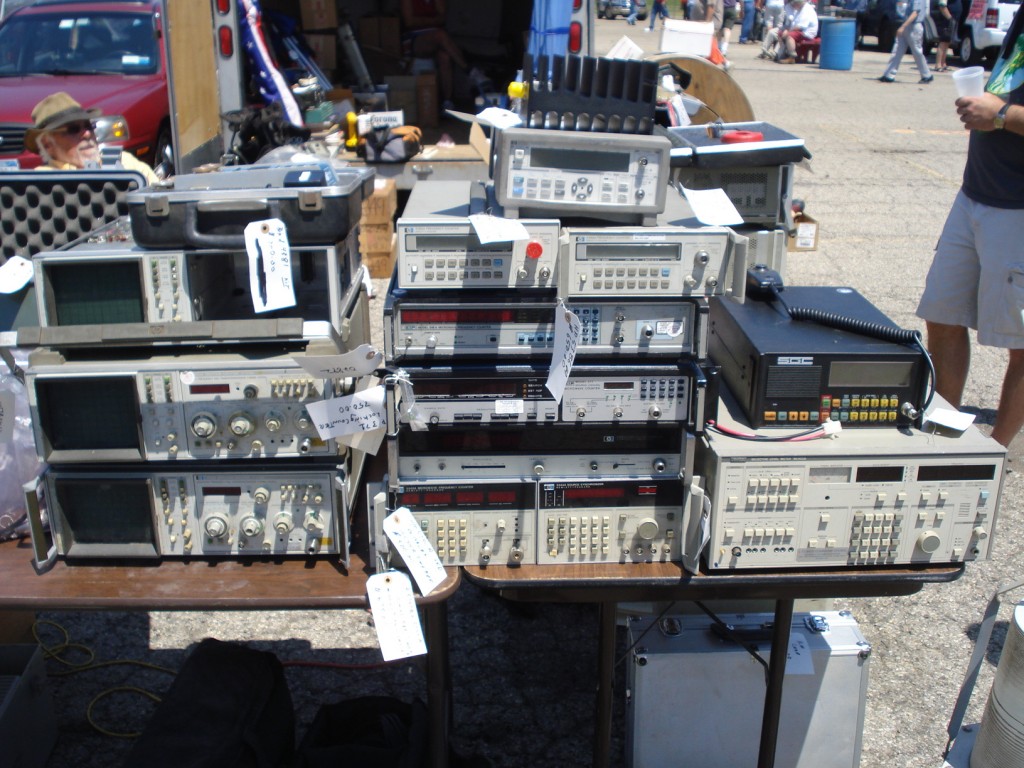 I also purchased my next project from the guys at Far Circuits: a W1VT 222MHz. Transverter.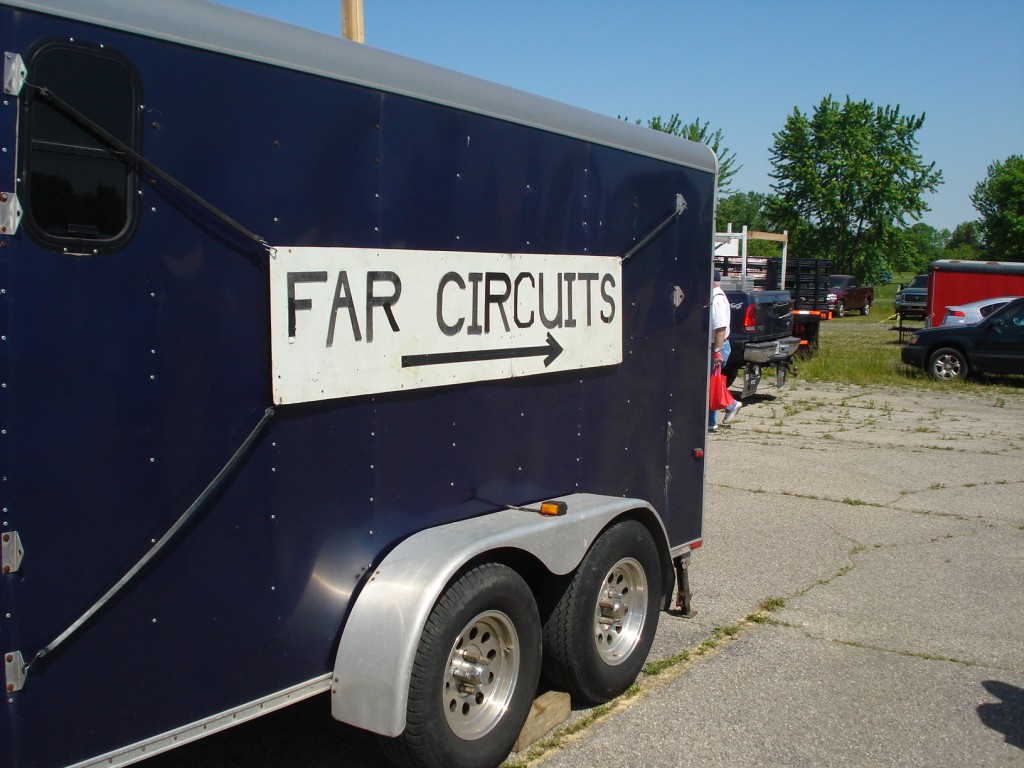 There were also a lot of "picklocks" guys at Hamvention: at least three different tables for them and their wares. Not sure these guys are relevant- but perhaps they are more relevant than the bird house seller, the pet hair remover seller or the cosmetics seller.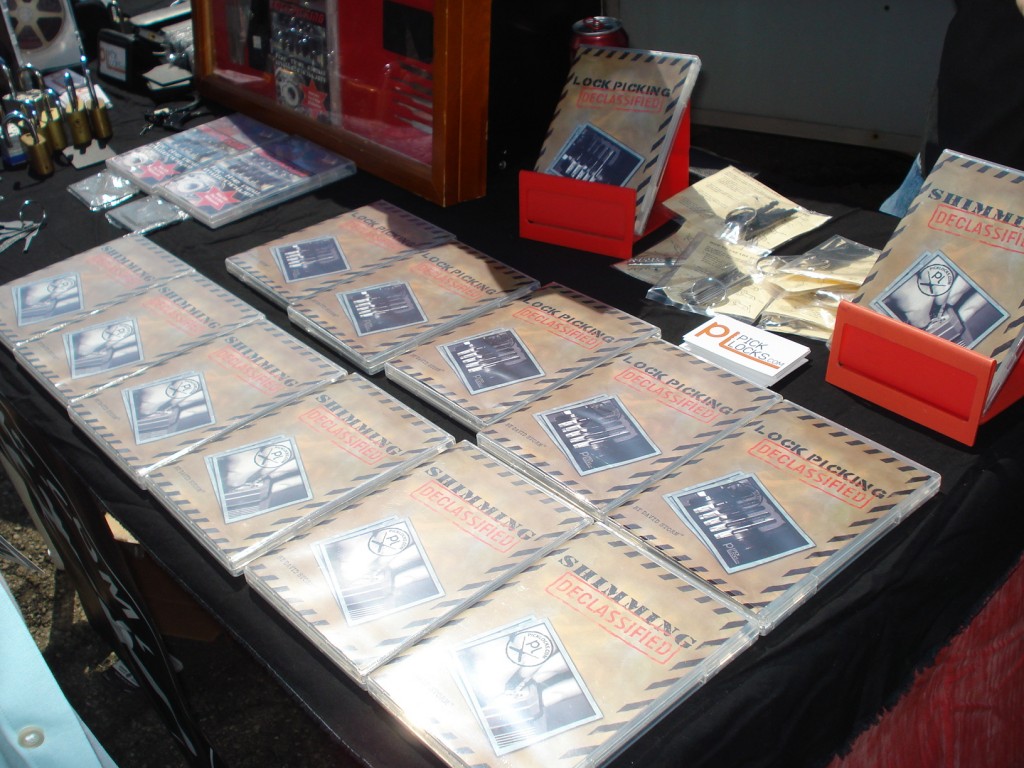 There were other goings on. It's a big place, Dayton, and worth visiting at least once. Like the guys in the hamabouts will tell you- motor on!