While it is completely anecdotal that people with musical inclinations tend to have an easier time learning Morse code (to my knowledge, there have been no double-blind studies to examine this supposed relationship) I suspect there may be some truth to this assertion if only because, try as I might, I'm seemingly unable to learn and use the code- and, of course, I'm not musically inclined at all. Somehow, this makes my deficiency more soothing. I've tried to learn Morse code using all sorts of techniques and mediums: I've used tapes, CDs, on-air listening, sending characters (on the premise that if I can make the noise, I can learn to hear it), mobile apps, and I'm sure other methods which escape my present memory. When I hear Morse code, it's a jumble of sounds such that, for the most part, I can't tell a dit from a dah.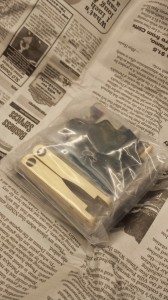 This doesn't prevent me from trying to continue to learn the language. I can cipher some characters and prosigns and phrases, so I must be picking something up. I've not developed the bad habit of trying to memorize a character chart and instead listen to the code only. It could be that I've simply not really given it my all. Whatever the reason, I'm just not adept at it, whether it's because I don't have a musical bone in my body, have no facility with foreign languages, or haven't tried hard enough.
During my trip to Dayton Hamvention 2013, I ran across K8RA and bought a key from him- if I spent over one hundred dollars on something, my thought was, I'd definitely learn how to use it. I also saw Doug Hauff, W6AME, displaying his keys at his table for his sideline business, American Morse Equipment (you'll note this write-up is about the KK2-A, which can be ordered by selecting the KK2. The -A update indicates that this kit uses springs instead of set screws for arm adjustment). I didn't buy one then, mainly because I had spent all I was going to, but I did like the idea of a more substantial kit and knew that I'd later get one, which I did. What convinced me to purchase one, other than I like the idea of supporting locally owned small businesses, was the rugged quality- everything but the paddle handles is metal- and it is finished in the raw, so you can customize the finish if you'd like. I admit it's a bit crazy to purchase another item that you can't use just to put it together. But kit building isn't really about the destination, it's the journey that's important. And for $71, you aren't going to go broke playing with it. In what follows, I'll show you how I finished my key and maybe it will give you an idea on what you'd like to do for a project you are working on or that is coming up soon. Or, maybe it will inspire you to purchase a key from Doug and finish it out yourself- I bet he wouldn't mind!