Happy Thanksgiving! Hopefully everyone is enjoying their fill of holiday food and settling in for the rest of the holiday weekend with their friends, family and whatever else it is that makes this holiday special for you.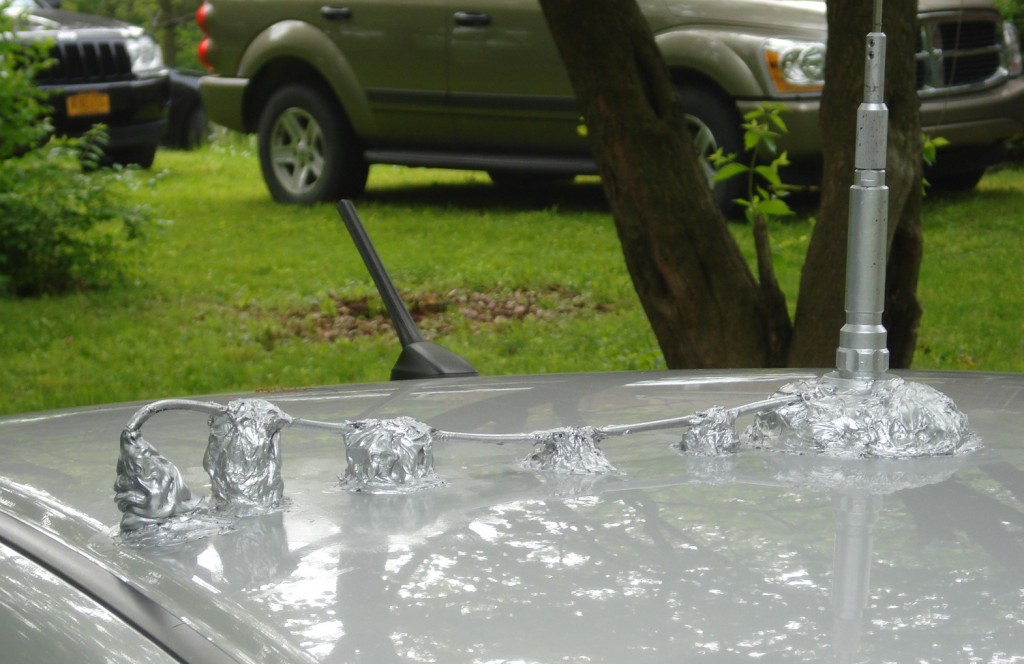 Earlier this year I had the chance to attend Hamvention, located in Dayton, Ohio. I was lucky enough to go, it was certainly a highlight of the amateur radio year for me, and thought that I'd share what I thought about the event as my way of sharing the fun that I had- something I was very thankful for. This also may provide some insight into the event for people who haven't made the trip and spur them on to finally commit and attend at least once. It really is something to behold!
Like last year, our contingent decided to make the trip to Dayton a one day exercise- though it was really more like a marathon. Can you really see everything in a day? Well, yes, but not thoroughly. However, if you have made a list of things you'd like to pick up, vendors you know you'd like to see and people you'd like to meet, you can probably get all of that done. You do run the risk of overlooking potentially great deals, but you run that risk regardless of how quickly you go through the flea market. Things come and go no matter how quickly and accurately you survey the tables; and if Bishop Berkeley is to be believed, esse est percipi, so it is unwise to worry about what gets away when there is so much to be gotten in the first place.
Of course, the size of the event also determines the size of the flea market- perhaps Hamvention's greatest attraction: the more people who show up, the better the chances of more vendors signing up to rent a space and sell their wares and hopefully a virtuous cycle renews itself. Here is a list of attendance by year (which may or may not indicate the future health of the event):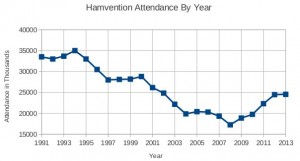 1991 Dayton Hamvention Attendance  33,500 (ross.m.brown@…)
1992 Dayton Hamvention Attendance  33,000 (ross.m.brown@…)
1993 Dayton Hamvention Attendance: 33,669 (Peak before change from April to May*)
1994 Dayton Hamvention Attendance: 35,000 (e) (Dayton Daily News)
1995 Dayton Hamvention Attendance: 33,000 (e) (Dayton Daily News)
1996 * No data available (Other sources list this year as the change from April to May).
1997 Dayton Hamvention Attendance: 28,000 (ARRL Newsletter)
1998 Dayton Hamvention Attendance: 28,120 (ARRL Newsletter)
1999 Dayton Hamvention Attendance: 28,176 (ARRL Newsletter)
2000 Dayton Hamvention Attendance: 28,804 (ARRL Newsletter)
2001 Dayton Hamvention Attendance: 26,151 (ARRL Newsletter)
2002 Dayton Hamvention Attendance: 24,832 (ARRL Newsletter)
2003 Dayton Hamvention Attendance: 22,168 (ARRL Newsletter)
2004 Dayton Hamvention Attendance: 19,869 (ARRL Newsletter)
2005 Dayton Hamvention Attendance: 20,411 (ARRL Newsletter)
2006 Dayton Hamvention Attendance  20,324 (ARRL Newsletter)
2007 Dayton Hamvention Attendance: 19,318 (ARRL Newsletter)
2008 Dayton Hamvention Attendance: 17,253 (ARRL Newsletter)
2009 Dayton Hamvention Attendance: 18,877 (Dayton Hamvention direct query)
2010 Dayton Hamvention Attendance: 19,750 (Dayton Hamvention direct query)
2011 Dayton Hamvention Attendance: 22,312 (Dayton Hamvention direct query – WA8APB)
2012 Dayton Hamvention Attendance  24,483 (Announced at Friday night's DARA Membership Meeting)
2013 Dayton Hamvention Attendance  24,542 (Announced by DARA 6-06-13)
People have been talking about the demise of this event for as long as I can remember. And they almost certainly will continue to predict its demise well into the future. What no one asks is what would happen if Hamvention dried up and died? What would take its place? Anything? Something regional, like the draw of a large city hamfest or will it be another destination driven event, like say Orlando or perhaps Hunstville? And if you are going mainly to check out the flea market, let's face it, boneyards have never been glorious affairs and there is no reason to expect them to improve in terms of either seediness and haggling simply due to location. And if that's the case, it stands to reason, Dayton is just as good a place as any to hold this sizable event. (I do expect our brothers and sisters west of the Mississippi may take exception to my last claim.) My wager would be that we won't see any improvements in the physical plant of the Hara Arena anytime soon- but I'm not sure it was ever really in good repair in the first place. Still, I'd love to see attendance hit 30K again. I think it'd be wonderful if that came to pass.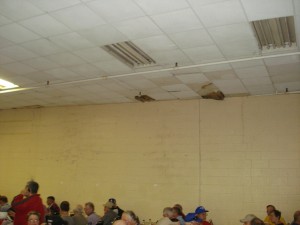 All that aside, the usual complaints apply: it was hot inside the arena, the stained walls and ceiling tiles don't add to any ambiance, poor lighting, a distinctly worn into the concrete smell of old sweat, the same familiarity with a worn out tire used as a swing that gets you dirty just playing with it and, of course, the place is just a dump. But again, where else could you have a gathering of this many and this kind of people?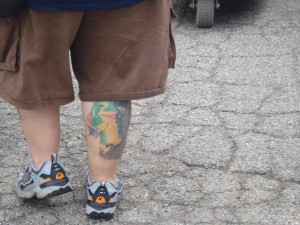 Before I go further, let me answer the question I imagine is lurking in the mind of the too serious for their own good types who are asking why I'd continue to go to an event if all I ever seem to do is complain about it? And I'd answer, why are you continuing to read about something you don't like the tone of? I enjoy Hamvention as much as the next guy or gal, I go to see stuff, and some of that stuff happens to be the people who show up. I can't help it they show up, just as they can't help it I show up, too. But everything about the place is fair game in a review- otherwise, it'd be like some company "innovating" by coming up with some award that they give to some "deserving" person in their own industry for being such a great… ham of the year? See, this stuff nearly writes itself. I can't help it if people want to take this event so seriously that they can't laugh at even just a little bit of it. A better way to live is through laughter- and just like real life, someone always has to pay the check. Or maybe put another way- the melting pot of hams has many burned in stains, some of which look like the face of Kinky Friedman. If you saw something like that, would you be able to hold your tongue?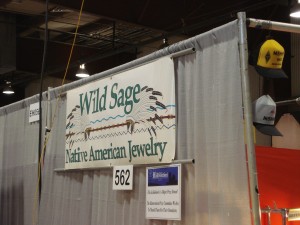 This year had many of the same players as were there last year; it's an institution, after all, and so it makes perfect sense that the same people are going to try and market their wares to their customers. Some people like to hang out in the flea market spaces and visit with their friends: instead of focusing on the commercial nature of the hamfest, many simply like to purchase a space so they can peddle a thing or two and also have a good spot to hang out with their friends. There weren't many non-relevant to radio/craft people at this years event, which made me wonder if there was a formula to determine how many booths you can dismiss out of having to see from the number of total booths based on the population of the event and its kind?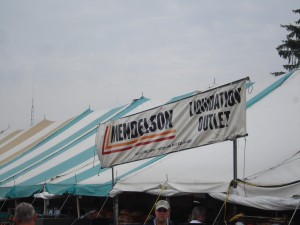 This year, I only noticed two Picklocks guys/booths, but I didn't get to see the entire boneyard this year, so I could have missed some lurking out and about. I had thought about bringing a hand counter/clicker for tracking how many hamabouts there were, but instead I forgot it in Atlanta, and spent the better part of the day wondering how accurate I'd have been with it anyway. MENSA didn't make an appearance this year, but in the "I'm trying to improve myself," category, I did pick up a copy of how to repair walls and ceilings from the Time-Life series of books from our dear friends at Mendelson's. It was meant as a gag gift, but I actually kept the thing because it is, believe it or not, one of the best technical writing pieces I think I've ever read.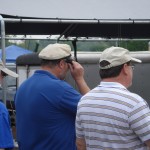 While there is always some amount of people at Hamvention who look like they are right out of central casting for the television series Justified, I am happy to report that many of them were actually walking instead of riding around on those interminable scooters. Of course, the scooters (or as they are often called, "hamabouts,") were out in full force but it didn't feel like it was my year to be run over by some grizzled fellows who maybe shouldn't be driving anything at all. My friends, Newt, N4EWT, and Jim, N4BFR, were nearly mauled a couple of times by the hamabouts, but using their catlike ninja reflexes, they were able to get out of the way in time to avoid certain doom.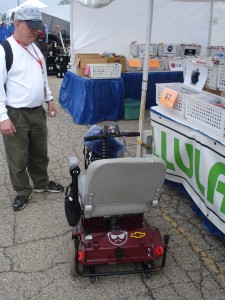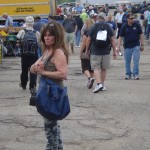 I also noticed more YL's than I thought were there last year. Not sure if this had become the family vacation for many families or if something else was afoot. I understand that some couples both participate in the same hobby- we sat at a lunch table with just such a couple from 1 land (who weren't especially friendly). Some people probably don't get to spend a lot of time with each other due to work and family commitments, so they try to make the best of highlight events with each other, even if one of the them isn't particularly interested in the event. And then there are the couples who have one party interested in an event and the other couldn't care less, but comes and stays in the car. I can't imagine what would possess anyone to attend an event if only to stay in the car, but I can imagine what a doomed to a bitter end sort of relationship might actually be occurring. The word "seething" comes to mind.
I've tried to take a more than passing interest in learning the code this year and decided I'd purchase a key to help encourage the process. I picked up a K8RA P2 key and couldn't be more pleased with it, except for the fact that I've not really made any progress at all in learning code- hardly the fault of this beautiful key! (In the process of writing this article, I dropped Jerry a line and thanked him again for his beautiful key and found out that he has been diagnosed with pancreatic cancer. So, please, make sure to get yourself checked and if you have some spare change, maybe think about a donation to the Pancreatic Cancer Action Network, a top notch charity devoted to this particular cause.)
Speaking of keys, Newt, N4EWT, enjoyed testing the ZN9A key from N3ZN that he went ahead and put in an order for one!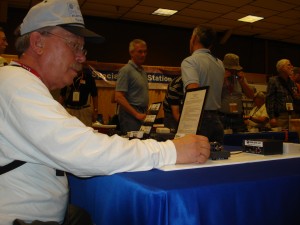 Also present was American Morse Equipment. They produce a lot of different keys, two of which come in kit form, mainly for the QRP/Portable operator. I didn't purchase one from them there, but I did mail order one from them later in the year and am pleased with it.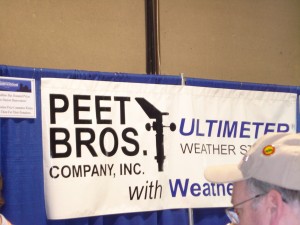 There were some other interesting products- one of which was Peet Bros. selling some of their refurbished weather station units at great prices! You don't often get a chance to take advantage of a sale like this, but I went ahead and bought an Ultimeter 100 and am very pleased with it. I've not yet hooked it up to my APRS station, but I hope to get that accomplished by the end of the year. I patiently listened to (possibly) one of the owners sons explain the products, answer questions and all the while wearing a tie and long sleeved shirt. If that isn't reason enough to purchase one of these stations, I don't know what is.
Hendricks has come out with some new kits this year and one I very much would have liked to purchase was the TST-10M kit, but as the day went on and the wallet got lighter, I was unable to do so. Still, it was neat to see a display full of built kits and some very knowledgeable guys behind the counter there to answer questions.
The chaps behind QRSS have recently introduced a new bit of kit and I believe they were sold out of them when we passed by. Hans Summers produces some very nice kits that can do all sorts of low speed, below the noise floor weak signal work for very affordable prices. You should check this stuff out- it's amazing how far you can go with so little power!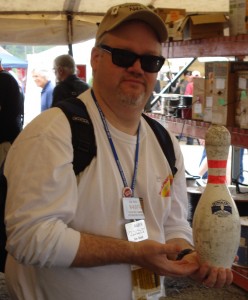 There was more stuff, of course. The flea market had many items: when not modeling bowling pins(!), Jim, N4BFR, picked up an interesting side mount phone and I stopped by the EAE Soldering booth to pick up some solder. After the last minute purchases, we headed back to the parking area, loaded up and headed back to the airport for our trip home.
*******
Lastly, I want to mention someone I saw because I thought the behavior I witnessed was both completely strange and yet not out of place. I don't know who the fellow is, I do not have a picture of him or know anything about him other than what I'm about to describe. I'm not even sure this is important, but it seems like its relevant and something someone else may have seen.
While we were walking down the isle which separates the East and West parking lots from each other, we happened upon a fellow who had apparently just left one of the nearby food tents and was, seemingly, speaking to no one in particular about the fact that he wasn't going to pay that for a hamburger unless it was a really good one or one that was worth it. He was muttering, but loudly in any case. His blue shirt was worn thin and appeared burnished; and if I had to guess, it must have had the feel of large count thread sheets from being so worn.
Apparently with no one in his company or attending with him, my first instinct was to envision some poor man who lives in his mother's basement. A sad soul who is king of his clan of one cat and maybe even a rabbit in a cage. The remains of the former rabbit residents are stuffed in the freezer because he is both too lazy to shovel the earth to receive them and his mother is waiting for the lucky feet craze to return and cash in on these raw materials. He may or may not use IRC and play some MMORG because even though he shuns society with his antisocial behavior, nevertheless craves the attention of it to witness that he is smarter than it and their better. Otherwise, he'd have paid for his burger, the proceeds of which support charities around Dayton, and had a beer and been quiet.
And maybe he wasn't this at all. Who is to say?